Repairs are often uninvited and regular in our lives. It may be as minor as a nail popping out of the wooden furniture or a screw in the cooker handle that needs tightening or even major ones like blocked taps which require frequent clearing up. Everybody agrees that calling the plumber, carpenter, and electrician for these minor repairs is not at all feasible for two reasons – first, because of its expenses and second, they usually do not take up minor repair works because it is not worth their time.
So, how do you handle such inconveniences? Learn a little bit of repairing and have a well-equipped tool bag. In this article, we shall look into the 5 Essential tools that you must carry on a tool Bag so that you don't run around for tools and people when the crisis comes.
Tools to Carry in a Tool Bag
The tools in this list can be used for many purposes right from carpentry to plumbing and also for some basic electrical repairs like tightening the wires.
1. Screwdriver
We all need this. There's a loosened cooker handle or your kid's remote-control car needs a battery replacement. You can't call an electrician for this. So, keep a few different screwdrivers handy so that you don't have to lose your face in front of your kids.
Getting into a bit of technical stuff, screwdrivers come in two varieties: Flathead screwdrivers and Phillips or star screwdrivers.
Flathead Screwdrivers
As the name suggests, the flathead screwdrivers have a flattened end which tightens the screws with groves with either one line or most of the times, two crossing lines. With the invention of Phillips screws and screwdrivers, the use of flat head screws has become less over time, it is better to have a few common sizes of flathead screwdrivers, just in case.
Phillips Screwdrivers
With its invention, Phillips Screws replaced the flathead screwdrivers quickly, thanks to its ability to take in more torque than a flathead screw. This is probably the most used types of screws right now and you must have a set of Phillips screwdrivers (and screws) of various sizes in your tool bag.
In the image above, the first one is the Phillips screwdriver and the second one is the flathead screwdriver. You would be amazed to know that screwdrivers can even come handy in medical emergencies.
2. Measuring Tape
This is one of the tools you must possess in a toolbag. This comes handy for the domestic measurements. For example, you need a tape measure to accurately check if your new television set fits into the TV slot.
Plus, there are many perks of having a metal tape measure than a regular one, like it has a slot at its open end to fix the tape's open end to a screw or a nail and then measure. This means that you won't need another person to measure the length of your room anymore. Find a few more interesting uses of the tape measure on makezine.com.
3. Claw Hammer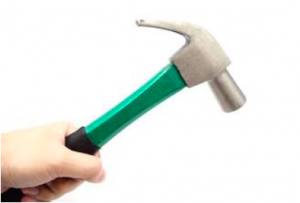 A good quality solid hammer is necessary for driving those standing nails back to its position, fix a photo on the wall with a nail and also for minor demolition works like breaking a stone into small pieces (and breaking open a walnut).
You may want to go for the classic 16-ounce hammer as it is heavy enough for household needs and light enough to carry around. Instead of going for the age-old wood handle hammers, consider purchasing the one with a synthetic handle so that it doesn't break easily.
While buying, look for the one which has a good balance without much head weight. Make sure you try out a few before selecting the final one.
4. Needle Nose Pliers
Needle Nose Pliers are in fact to be on an electrician's toolkit. That does not mean that you could not have it if you are not an electrician. Pliers are good for minor household electric projects like twisting, bending, cutting or even gripping wires. Their long and skinny shape allows you to reach the wires in the small cavities.
You can also use the pliers to repair the zip slider that doesn't close properly. Take the zip slider to the open side and press the two sides (top and bottom) of the slider together applying a small amount of force. Then, if everything goes fine, the zipper will close when you slide the slider.
5. Utility Knife
While not a very exciting tool to be in a tool bag, you will never regret keeping a utility knife in your bag because of the number of uses that it has. Also, it is very light and handy.
You can use a utility knife to scrape and cut, sharpen your kid's pencil when the sharpener is not available and even for self-defense when the need arises. These are just a few of the thousands of tasks that need a utility knife. In fact, a utility knife will never sit idle at the bottom of your tool bag covered with dust – it is useful in most of the tasks.
These were the 5 Essential tools to carry on a tool bag. But that is not all. Here are a few tips on expanding your collection of tools so that you have nearly everything that you may need at times.
Expanding the Collection
In addition to the above 5 important tools, it is better to possess few more tools because they are also equally important when you take up domestic tasks like putting a picture on the wall, assembling the new table that was just delivered and so on. Definitely, you cannot risk your finances for these tools at a time. So, here are a few tips on how to grow a good collection.
#1 Go Slowly
You don't need to buy all the tools at a time. This will strain your finances. You may want to buy a few at a time and grow your collection gradually. First, go for the basic necessities and then you may buy other tools, depending on the need.
#2 Quality than Quantity
Always concentrate on the quality than quantity, even if the price is a little higher. There is no meaning in bringing a bulk of screwdrivers of various sizes for a low price and disposing of them after a few weeks. Tools should be of such quality that they last for years if used properly.
Hope this list and the tips come handy when you are considering to buy a tool bag. Never hesitate from investing in them because they will save you much money that you pay the people who come over for these minor problems.
Author Bio:
Harold Camaya
She is a blogger who loves to write in different verticals. She co-authored Supercharge Organic Traffic: A popular course focusing on Organic Traffic for E-commerce.. Her hobbies are traveling and reading.